Refreshed Website Takes VSU's Illustrious History Into the Future
Challenge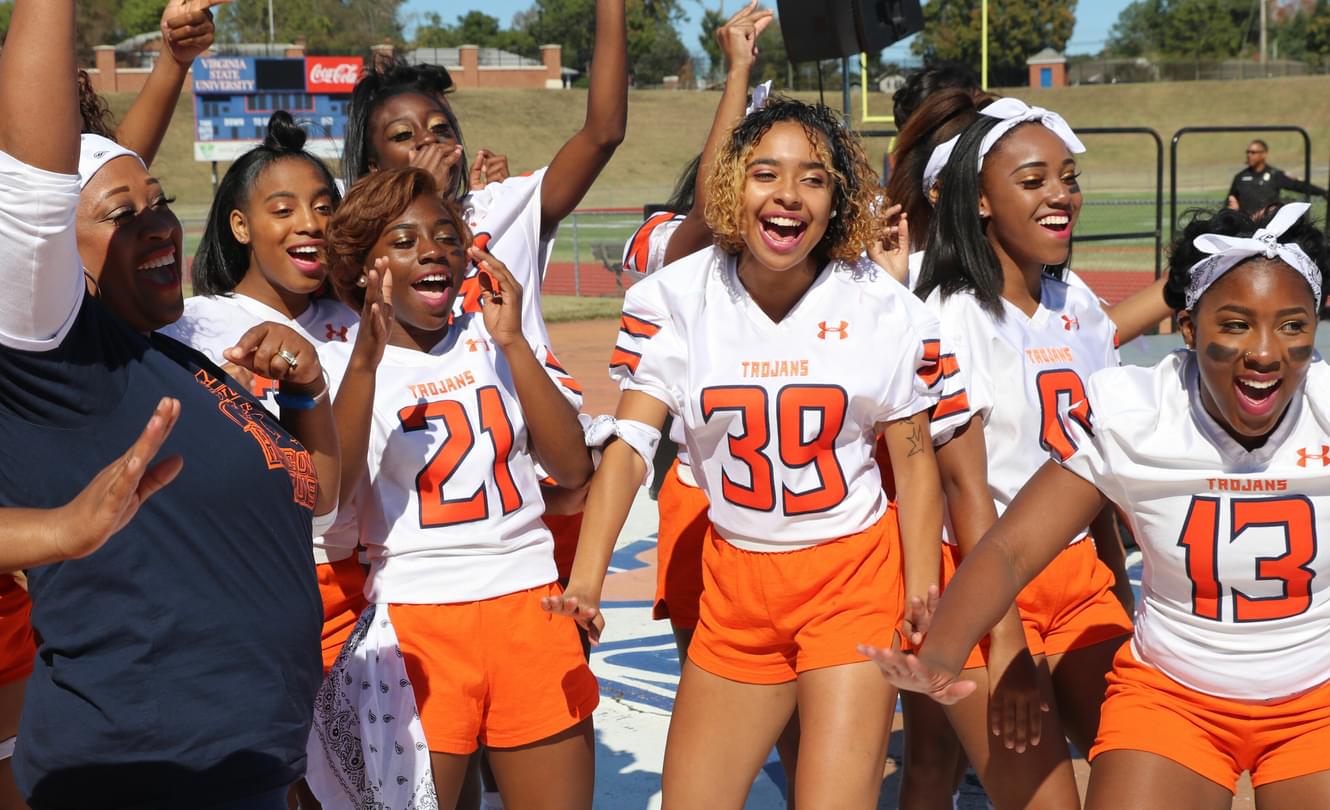 Founded in 1882, Virginia State University (VSU) enjoys an illustrious history as one of America's top historically black colleges and universities (HBCUs). In fact, in their recent annual college rankings, U.S. News & World Report placed the university 29th against its 106 competing HBCU schools and 84th among overall regional universities in the South.

The university's website, however, fell short in communicating the institution's rich history, it's stature among not only HBCU schools but Southern universities, and critical factors for incoming students such as retention, faculty resources, and academic excellence.

In partnering with VSU, CapTech set out to create a robust, easy-to-navigate digital experience for the university, one that would weave together the spirit, heritage, and overarching benefits of attendance. The goal? To create a user-friendly interface that would increase enrollment and provide valuable information for existing students, faculty, and alumni. With this new approach, VSU also had a desire to migrate the hosting of their website and content management system (CMS) from an on-premise data center to the AWS Cloud. VSU needed the ability to scale for increases in traffic easily, and in an automated way.
Approach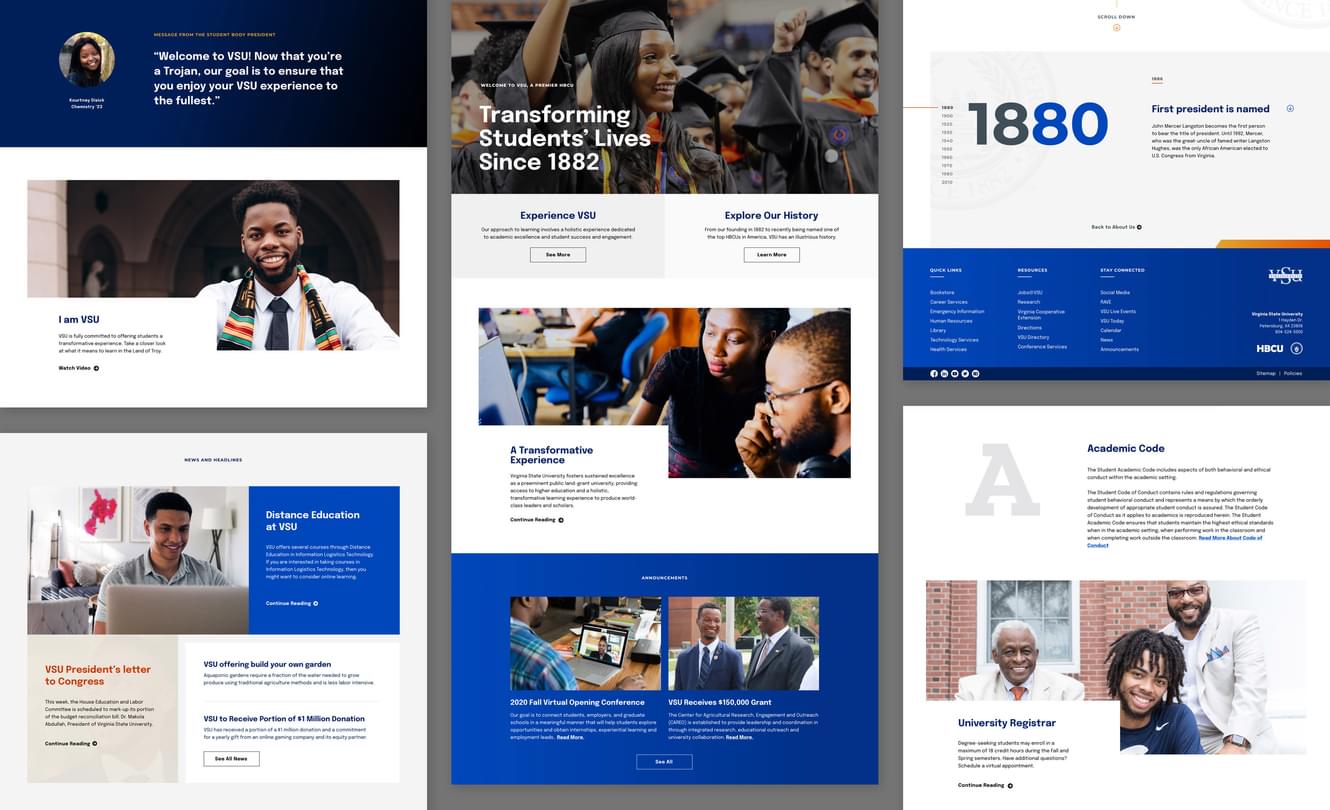 The process began with an evaluation of the information architecture and a content inventory. These would drive the creation of a future state, prioritizing the most important pages, combining redundant ones, and archiving any that were obsolete. And, with 67% of students using search engines to research higher education institutions, a comprehensive SEO strategy was needed to improve content rankings, increase traffic for targeted search terms, and increase the opportunity for conversions/student admissions. This included keyword research on what users look for when researching HBCUs, with CapTech optimizing 20 priority pages.

CapTech guided the university in consolidating 11 of 18 external subdomains, designed several reusable components to be used throughout the site, and implemented a new content management system (CMS). The final "develop and deploy" phase included CMS implementation, technical development, content migration, and deployment. Content migration, in particular, was a challenge as the site utilized 1,250 HTML pages and 1,112 pdfs. A keep/edit/archive approach was used for existing pages, to prioritize which pages and pdfs moved into the new CMS.
Lastly, as part of the AWS migration, the VSU web team was trained by CapTech's AWS architects on managing their new cloud infrastructure. There were guides on how to recover from a disaster and failover to another region in the case of an outage, all while maintaining zero downtime on the website. CapTech also created guides and workflows to allow individual departments to own and manage their respective areas of the website, allowing edits to be viewed in a QA environment before being approved and promoted to the production website.
Results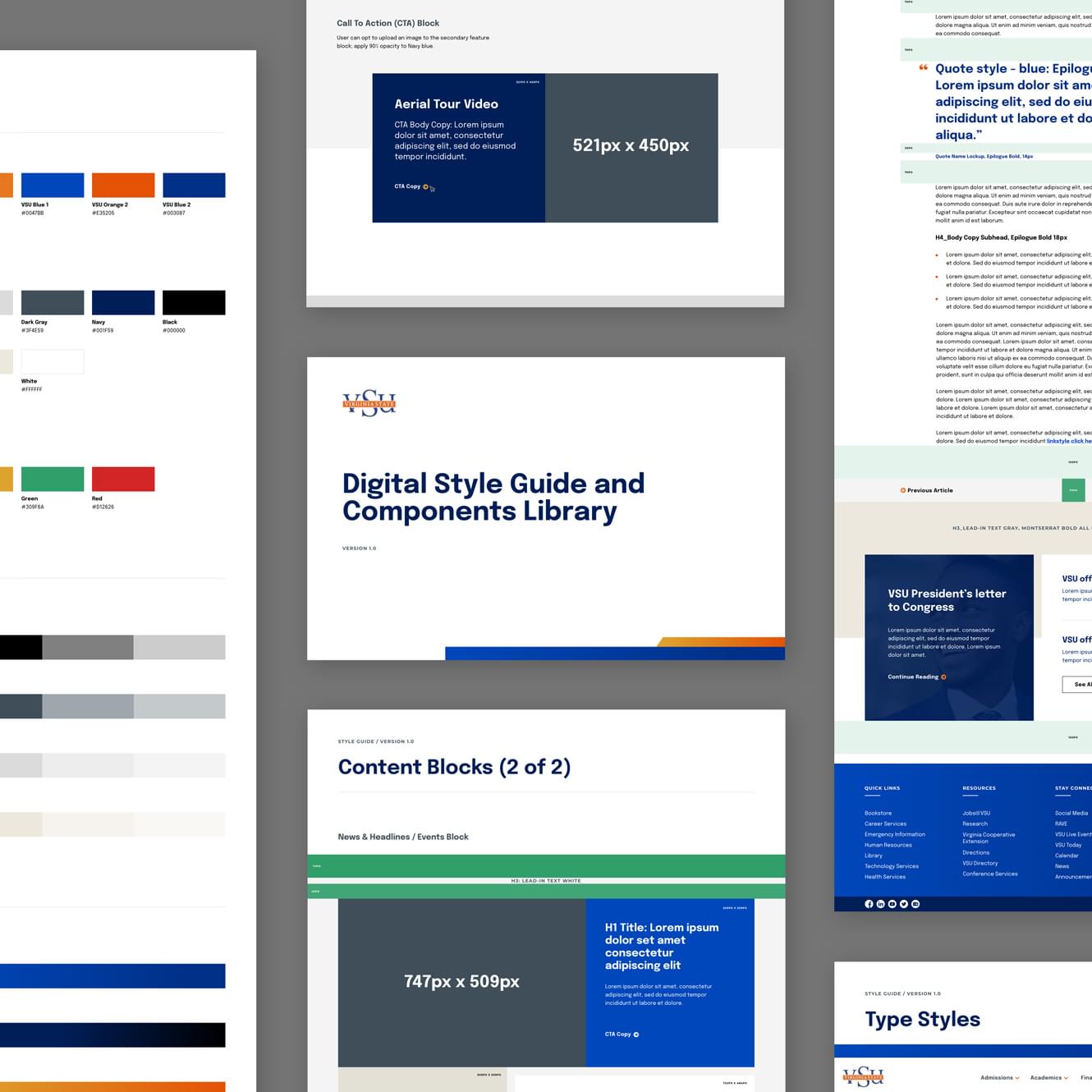 At the project's conclusion, CapTech provided VSU with:

A highly-available cloud infrastructure supporting both the website and content management system.
A safe process for members outside of the web team to contribute content changes for review and promotion.
Responsive design that accommodates the increased trend toward smartphone viewing.
A new digital style guide that outlined all components and elements of the design in order to ensure consistency when new pages or features were added to the site in the future.
Updated imagery for a new, fresh look and a consistent voice throughout to reinforce the VSU brand.
In short, the university now enjoys a website that truly tells its story in a way that is both engaging and simple to navigate.