Blog | July 13, 2023
No Limits on Data: Key Takeaways from the 2023 Snowflake Summit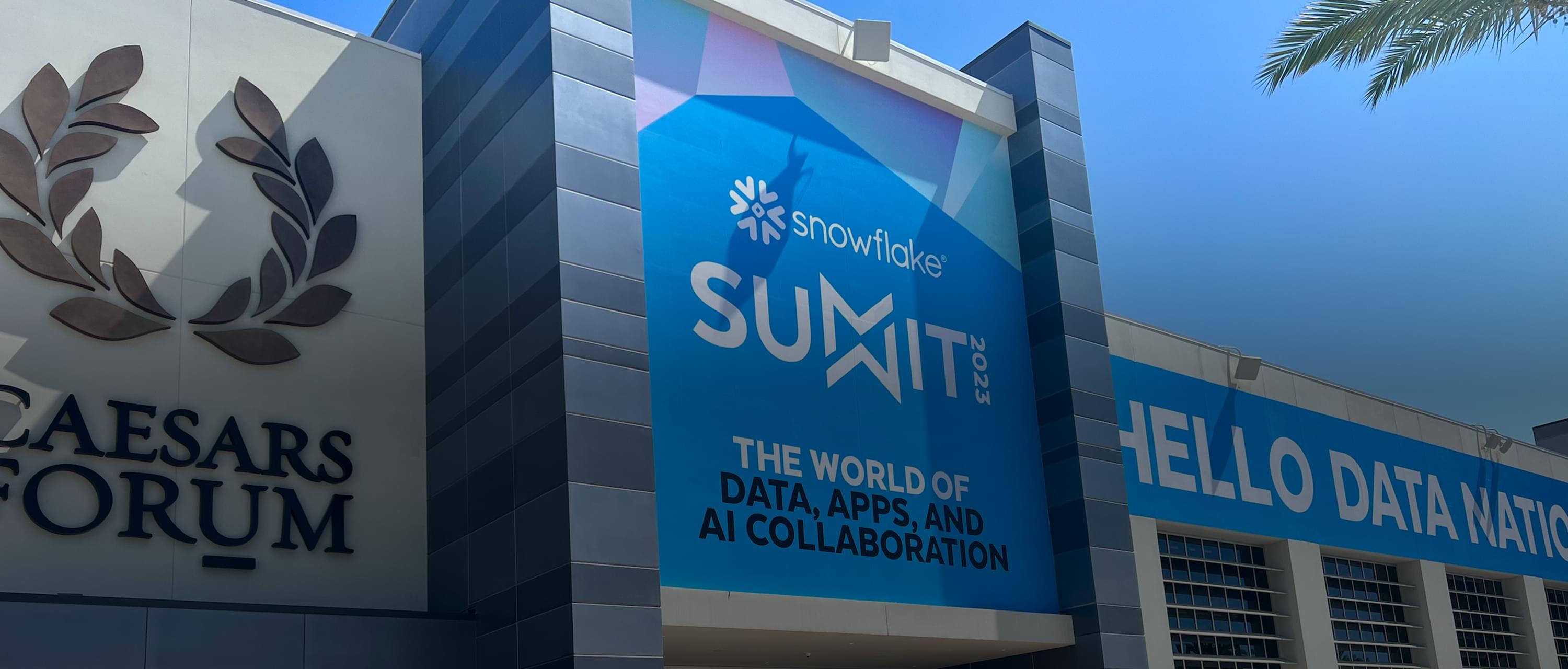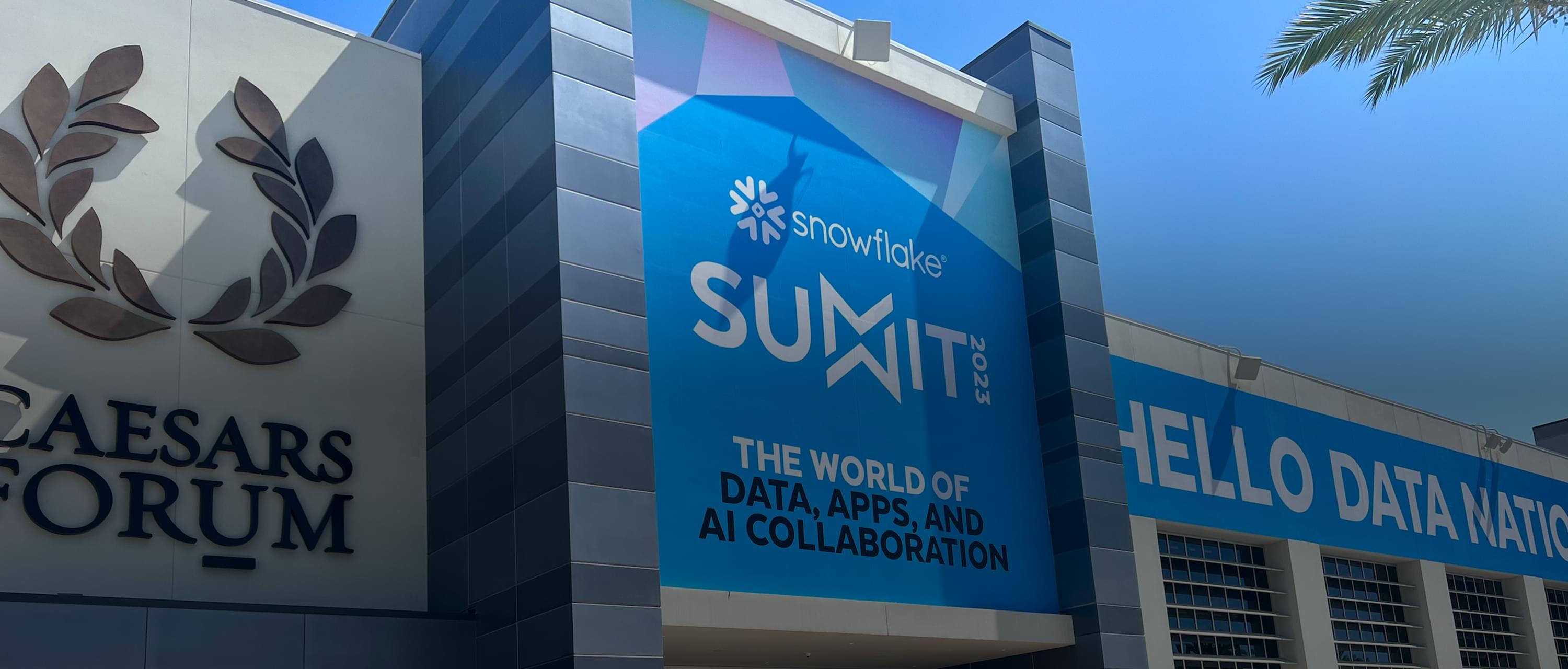 CapTech joined more than 12,000 data professionals who gathered in Las Vegas for Snowflake Summit 2023. With over 440 sessions and 200 ecosystem partners, there was a flurry of excitement surrounding the new partnerships and innovative capabilities announced, including plenty of discussion about how customers can incorporate generative AI into their data strategy.
The conference began with a keynote discussion from Snowflake Chairman and CEO, Frank Slootman. He opened his address by saying, "There is a drinking game, every time I say AI, you have to do a shot." This received some laughs from the audience, but it illustrates the fact that Artificial Intelligence (AI) and Machine Learning (ML) were going to be a top topic of conversation at the event. He then provided a sneak preview of the conference's major announcements around data, applications, and workloads, and how they related to the overall conference theme: No Limits on Data.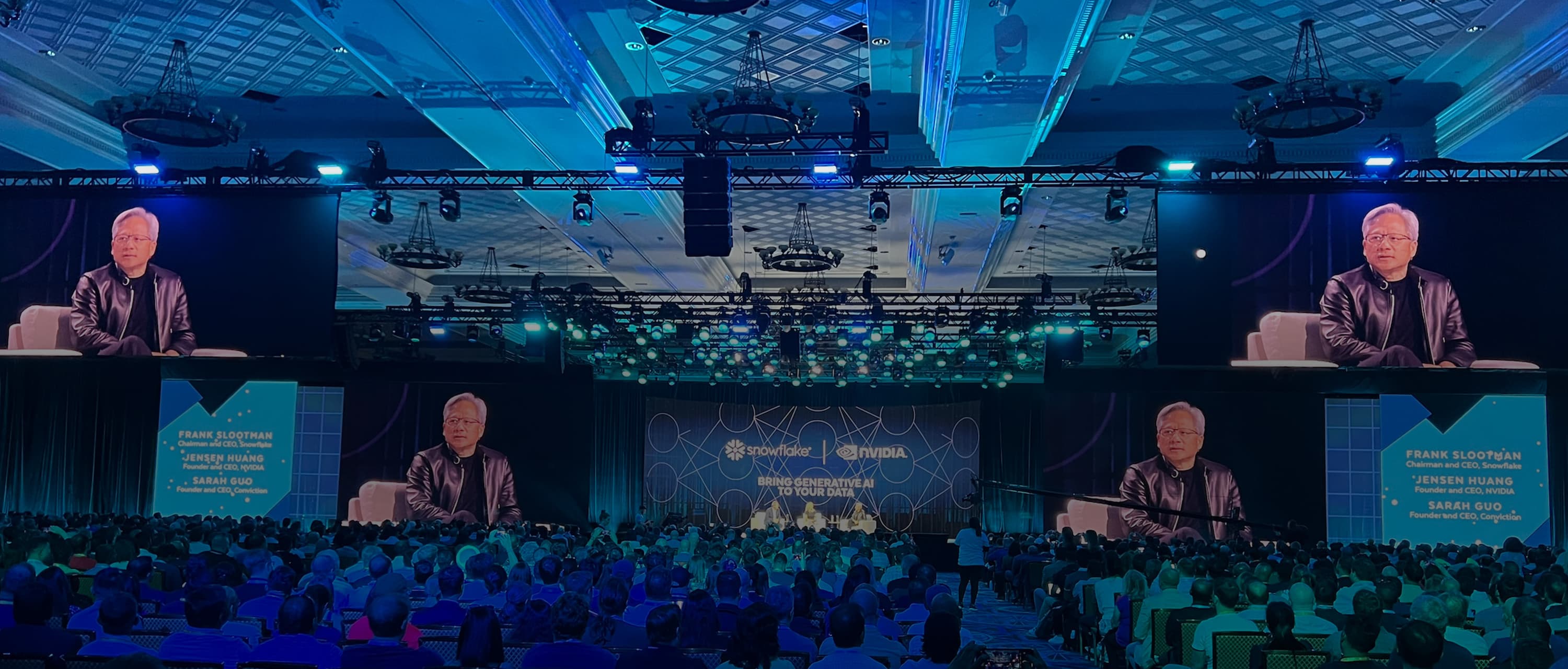 Snowflake and NVIDIA Partnership
The first major announcement was the new partnership between Snowflake and NVIDIA, which brings NVIDIA's compute power and AI models to Snowflake's secure data cloud. This is a paradigm shift from the typical method of bringing the data to the compute and will enable organizations to seamlessly and securely create and fine-tune custom large language models directly in Snowflake to power business-specific applications and services. Bringing the compute to the data potentially eliminates the need for organizations to move their data for AI/ML workloads, thereby reducing costs and simplifying data governance and security. Additionally, NVIDIA is bringing their NeMo platform and pre-trained models to Snowflake, allowing companies to augment the pre-trained models with their proprietary data to enable the development of AI applications in days, rather than months.

Jensen Huang, NVIDIA founder and CEO, stated, "Together, Nvidia and Snowflake will create an AI factory that helps enterprises turn their own valuable data into custom generative AI models to power groundbreaking new applications — right from the cloud platform that they use to run their businesses."

If you would like to watch the opening keynote, you can find it here.
"No Limits to Data"
It is clear that Snowflake is interested in expanding beyond its data warehousing and analytics niche and creating a one stop shop for all things data or, as Frank Slootman said, "No Limits on Data." This is evident from the NVIDIA partnership but also from other announcements made at the conference, including:
Snowpark Container Services
This new container service allows developers to run any containerized application within Snowflake. It enables new architectures and programming languages to run within the Snowflake security perimeter. Similar to the NVIDIA announcement bringing compute to the data, this will bring the code to the data and allows developers to register and deploy containerized apps with configurable hardware options such as accelerated computing with NVIDIA GPUs. This will widen the scope of AI/ML workloads that can be brought directly to Snowflake.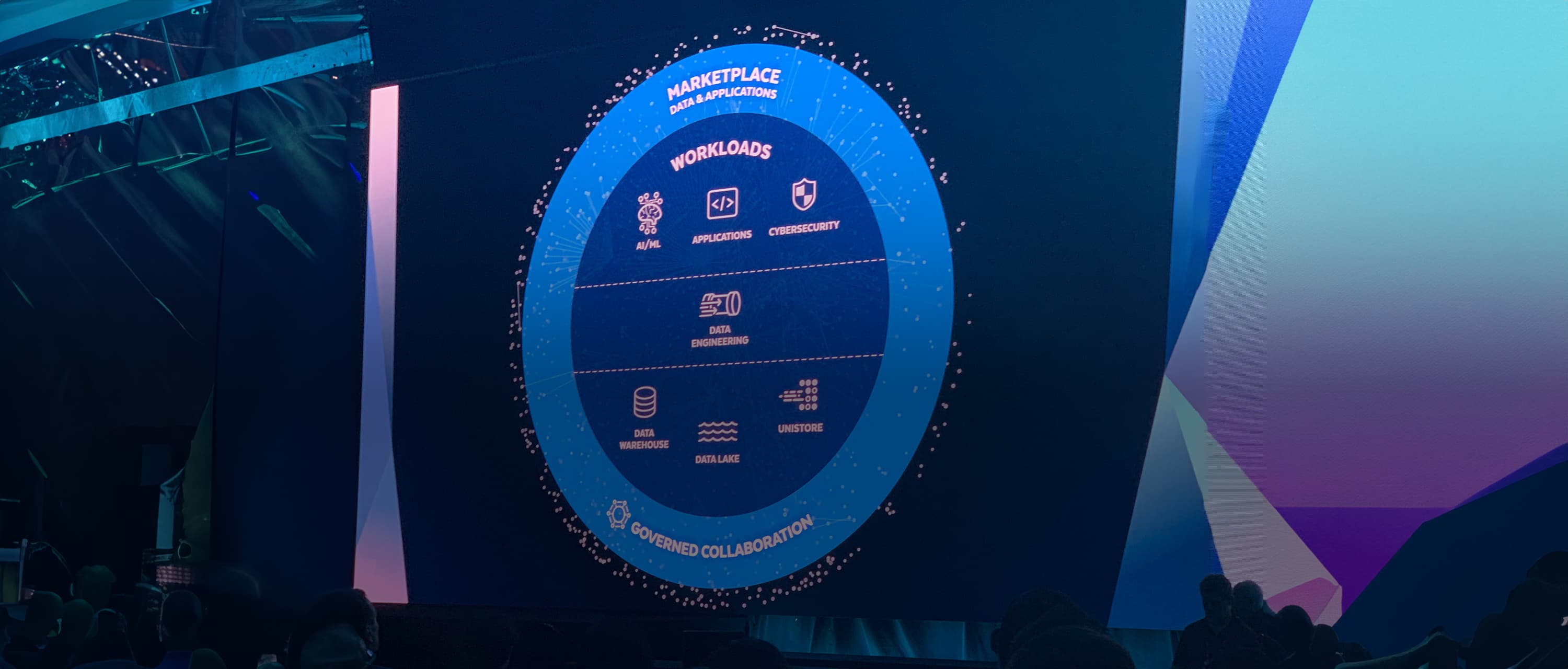 Native App Framework
This framework allows developers to build and operate applications directly in Snowflake and then distribute and monetize seamlessly and securely via the Snowflake Marketplace. Snowflake customers can then discover and purchase applications directly from the Snowflake Marketplace.
There's a clear theme running through these announcements: bringing applications to the data vs. the traditional method of bringing the data to the applications. Housing the application within the Snowflake infrastructure provides infinite scalability, native governance, security, and the ability to run across all the major clouds (AWS, Azure, GCP) and regions.
Expanded Apache Iceberg Support
Snowflake announced some changes to its approach in supporting Apache, the open-source high-performance format for extremely large analytic tables. The announcement centered around the release of a unified Iceberg for data stored in open formats. According to Christian Kleinerman, SVP of Products, it's a "unified table type that will let customers either have Snowflake manage the data and be the entity that writes the data, or just be an entity that reads and consumes data produced by another Iceberg-compliant data engine." This updated and improved support will help companies bring more and larger data sets to the cloud and further support generative AI.
Document AI
PDF and paper documents hold massive amounts of information and unstructured data, making collecting and running analytics challenging for most organizations. Snowflake's new "Document AI" leverages pre-trained natural language capabilities powered by the acquisition of Applica last year.
Document AI will enable companies to scan PDF files and extract information, even if they are typed or hand-written. Users can ask questions and receive answers through the interface. Each result provides a degree of confidence and the opportunity to provide feedback on the accuracy to adjust the results and actively re-train the models. In addition, information can be stored in tables and then set up in streams or tasks to develop automated workflows, like continually processing new invoices and alerting project owners via email if they have gone over budget.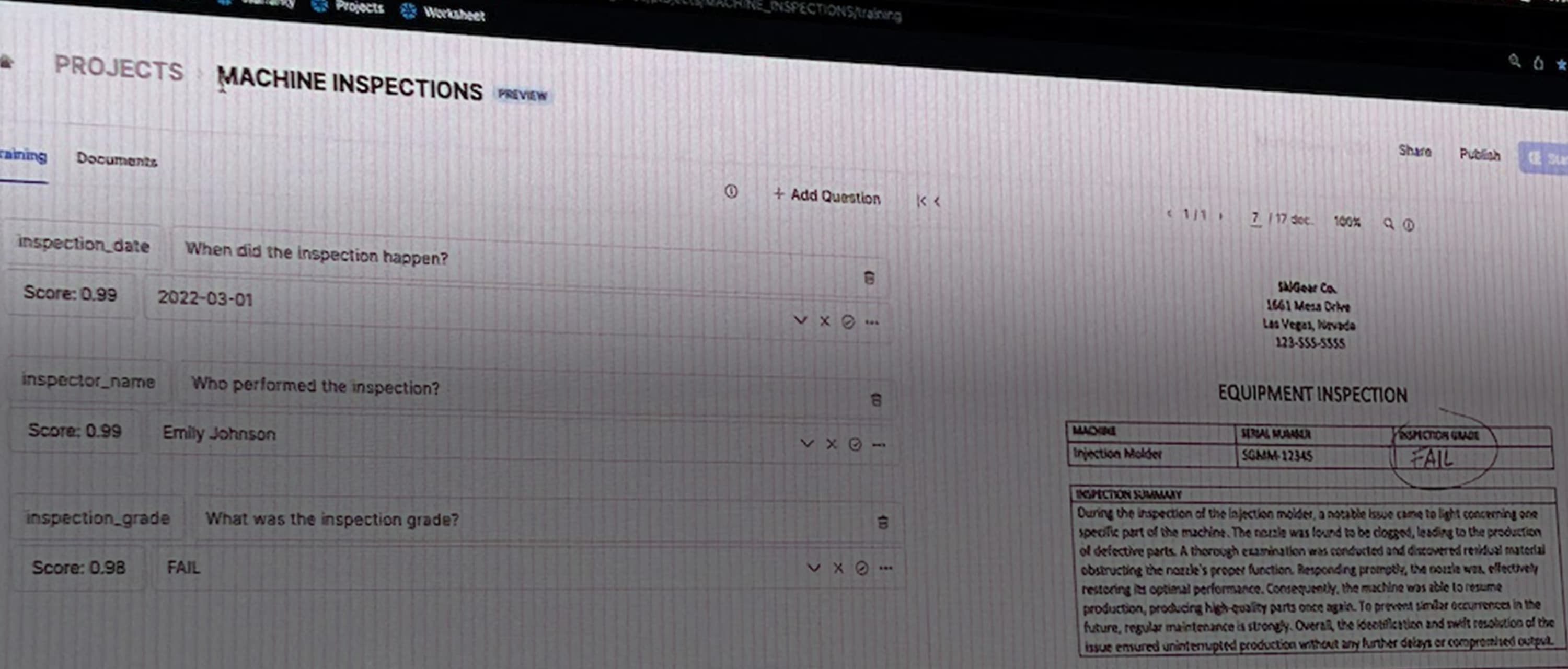 Expanded Microsoft Partnership
In addition to the NVIDIA partnership, Snowflake also announced an expanded partnership with Microsoft to better integrate with their Azure OpenAI and Azure ML products. This partnership is focused on the companies working together to develop joint solutions that better help customers build intelligent AI/ML-powered solutions. No significant new products or features were announced, but this will definitely be something to keep an eye on as the partnership combines Snowflake's data cloud expertise with Microsoft's cloud technologies and AI capabilities.
These exciting new partnerships and capabilities will enable CapTech to better serve our clients, collaborating to build modern data solutions. If you would like to learn more about CapTech's partnership with Snowflake, visit our webpage.