Blog | March 5, 2018
2018 Leadership Q&Amp;A | Charlotte Office Lead Errol Restelli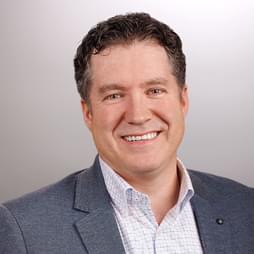 What are you most excited about as we go into 2018?
Our
Charlotte office
just moved locations to the brand new 300 South Tryon building. We were running out of space at our previous location, so this has been a big lift in morale. Everyone is really excited about the potential this new building brings. This space is the right size for us to entertain clients and hold our large all-hands meetings. Additionally, we are thrilled to have our own usability test lab onsite for client testing.
How does your office work to be a community partner?
All of CapTech's offices are involved in a variety of local nonprofits - Charlotte is no exception. We invest our time and resources into food banks and charity fundraisers, but we feel our biggest impact is when we invest our talent. We've created websites, built mobile apps, and performed IT strategy engagements for many nonprofits. We do these projects not because of some corporate order, but because our employees request it. Our consultants want to make an impact in the community. Another benefit is watching our consultants grow and develop new skills by tackling the unique challenges that face the nonprofit sector.
How do you see CapTech's core values at play in your market?
Back in 2010, we had just started growing our presence in Charlotte, so we really put our focus on making our clients successful by putting their needs first. CapTech was smaller then, so we needed to build the trust in the market by emphasizing our servant leadership role. Our strong delivery model and focus on quality helped to make sure we exceeded our clients' expectations. Those clients took notice as projects succeeded, and they engaged our office in more and more meaningful projects. Today, that commitment to servant leadership has really paid off, and we are still keeping that focus on ensuring our client success as we pass the 160 local consultants mark.
After work hours, where can we find you?
With our new office space, we now have a place for consultants to come back to for collaboration and social activities at the end of the day. In the office, we have cornhole boards, a chess club, and happy hours. Outside the office, our social and sports leaders have teams that play soccer, volleyball, and kickball. During their seasons, attendance at
Hornets'
basketball games and
Knights'
baseball games is a regular occurrence as well. Additionally, our community involvement includes a full slate of activities we support like FIRST Robotics, Apparo, The Charlotte Asian Festival,
Tosco Music
, and more. As for me, you can find me and my wife taking our three boys to chess tournaments, piano lessons/recitals, or the soccer field at the YMCA!