Blog | April 25, 2019
Healthcare for the Analytics Age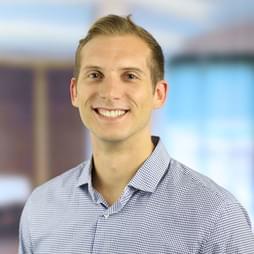 The Current Healthcare IT Landscape
Information technology within healthcare has gone through a dramatic transformation in the past decade and continues to evolve rapidly. Up until this point, the vast majority of the Health IT consulting space has been overwhelmingly Electronic Health Record (EHR)-centric. Hospital systems and insurance providers have worked with companies such as Epic and Allscripts to deploy massive enterprise-scale clinical data management systems where total project timelines were measured in years instead of months. While these EHR systems help reduce paperwork and make medical records more accessible to stakeholders, the systems are painfully incompatible, despite the fact that one of the major advantages being touted was the ease of information sharing among providers and interoperability between vendors.
Today with EHR and revenue cycle systems migrations largely completed, the focus is now shifting to extract more value from those initial investments, improve interoperability, and identify which new ventures are necessary to drive competitive advantage for the provider or payer organization. Development work in the healthcare vertical has shifted to primarily focus on the implementation of scalable applications that leverage large and connected data sets, powered by predictive analytics and artificial intelligence running in the cloud.
Changes in Market Pressures
In 2009, the "Meaningful Use" program was created when the Health Information Technology for Economic and Clinical Health (HI-TECH) Act was signed into law as part of the American Recovery and Reinvestment Act. The Centers for Medicare and Medicaid Services (CMS) has used this program to focus on adoption of electronic health records by healthcare providers to improve quality, safety, and efficiency of patient care.
This incentive based program is largely completed and can claim responsibility for 96% of hospitals and 85% of office-based clinicians operating on some form of digitized record management system [1].
The healthcare industry as a whole is entering the era where the economics of healthcare is changing to put a premium on population health management and value-based care [2]. New technologies in the sector have matured at an impressive rate and are already being implemented to meet the shifting business needs. Any organizations without structured frameworks to stand-up the latest analytic, IOT, and machine learning solutions are in danger of falling behind their competitors in the changing marketplace. Progress within the healthcare industry is going to be driven by efficiency, interoperability, and the ability to pivot to a more consumer-centric operating model.
Slow Adoption of Cloud-centric EHR Management
Healthcare providers now encompass a diverse array of organizations that include hospitals, small family clinics, and even pharmacy store "urgent care" centers. With the healthcare industry challenged to become more affordable, effective, and accessible, it is critical that providers invest in the correct IT strategies moving forward in this rapidly changing industry. At this point in 2019, the obvious elephant in the room is how will health systems, recovering from years of high cost implementations into their EHR systems, manage to get a tangible return on these investments.
Now that the data capture systems are in place, it is evident that these EHRs were designed to serve the primary purpose of being systems of record for clinical workflows and capturing complex claims/billing data. Unfortunately, that does not mean that these are the correct platforms to leverage any kind of robust data analytics. Major firms such as Google, Salesforce, and Amazon all understand these limitations and in response have rolled out various cloud offerings in recent years focused on helping fill this critical missing need.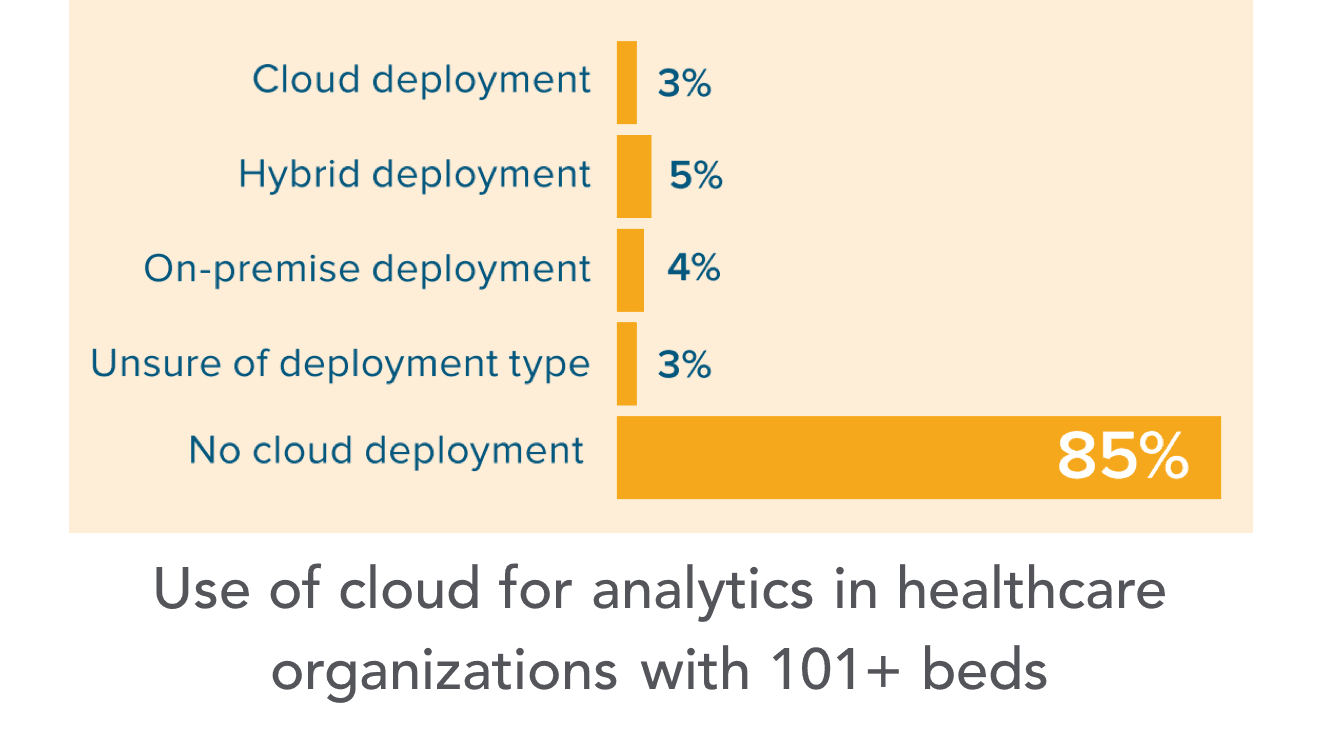 While providers understand that they need to deal with this new ecosystem and its requirement of scalable data management architectures, they are still lagging behind in implementation of cloud-oriented solutions. According to a survey of healthcare organizations by HIMSS Analytics, 85% of providers surveyed were not currently utilizing the cloud for analytics[3].
Implementing a Modern Health IT Architecture
The modern healthcare organization in 2019 generates and manages data in volumes that would have been incomprehensible just a decade prior. This will likely only increase as patients begin taking medicine and clinical data gathering into their own hands with devices such as Fitbits and Apple watches becoming ubiquitous. Unfortunately, most of the architectures in place today are simply not robust enough to handle the massive influx of new data.
In order for organizations to be successful in this new data-driven world, they must at a minimum implement the following three components into their enterprise data strategy:
Consolidate disparate data sources into a primary Data Lake
Adopt a cloud-oriented scalable data warehousing solution
Develop and deploy a robust data governance strategy
Although embarking on yet another large scale strategic IT initiative may seem daunting to both providers and payers alike, it is certainly not impossible. One key to success is working with a technology partner that has extensive experience with interoperability and the technical and regulatory issues it presents. CapTech has the proven strategy, experience, and resources to help practitioners and hospitals meet these challenges and succeed in the digital age.
About the Author
Andrew is a senior consultant in CapTech's Data & Analytics practice based in Richmond, VA. He holds a masters degree in Biomedical & Health Informatics from UNC-Chapel Hill and has years of experience working within the clinical informatics industry.
References
[1] Office of the Nation Coordinator (ONC).
"Adoption of Electronic Health Record Systems among U.S. Non-Federal Acute Care Hospitals: 2008-2015".
[2] Centers for Medicare & Medicaid Services (CMS).
https://www.cms.gov/medicare/quality-initiatives-patient-assessment-instruments/value-based-programs/value-based-programs.html
[3] HIMSS Analytics.
"Cloud-based Analytics: Supporting Healthcare's Digital Transformation"