Blog | March 25, 2021
Connecting Volunteers at Second Harvest Food Bank of Metrolina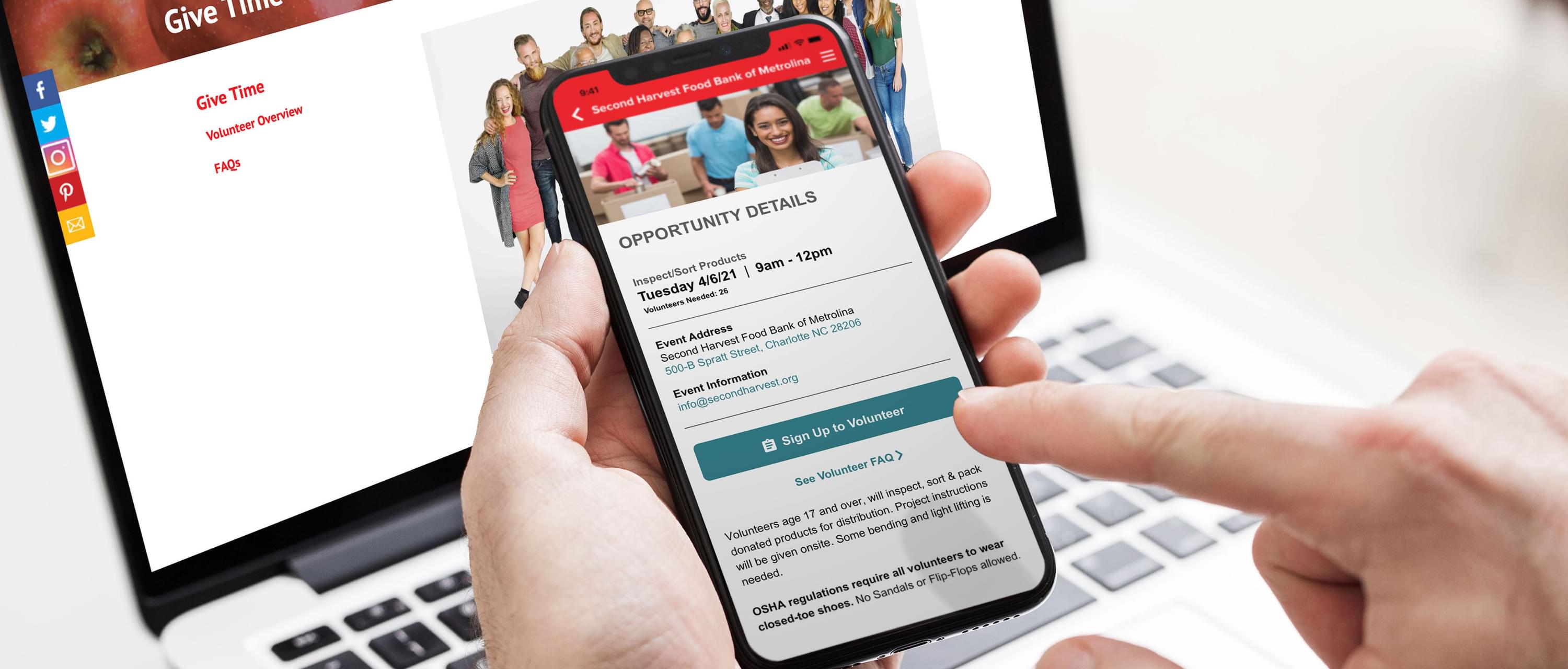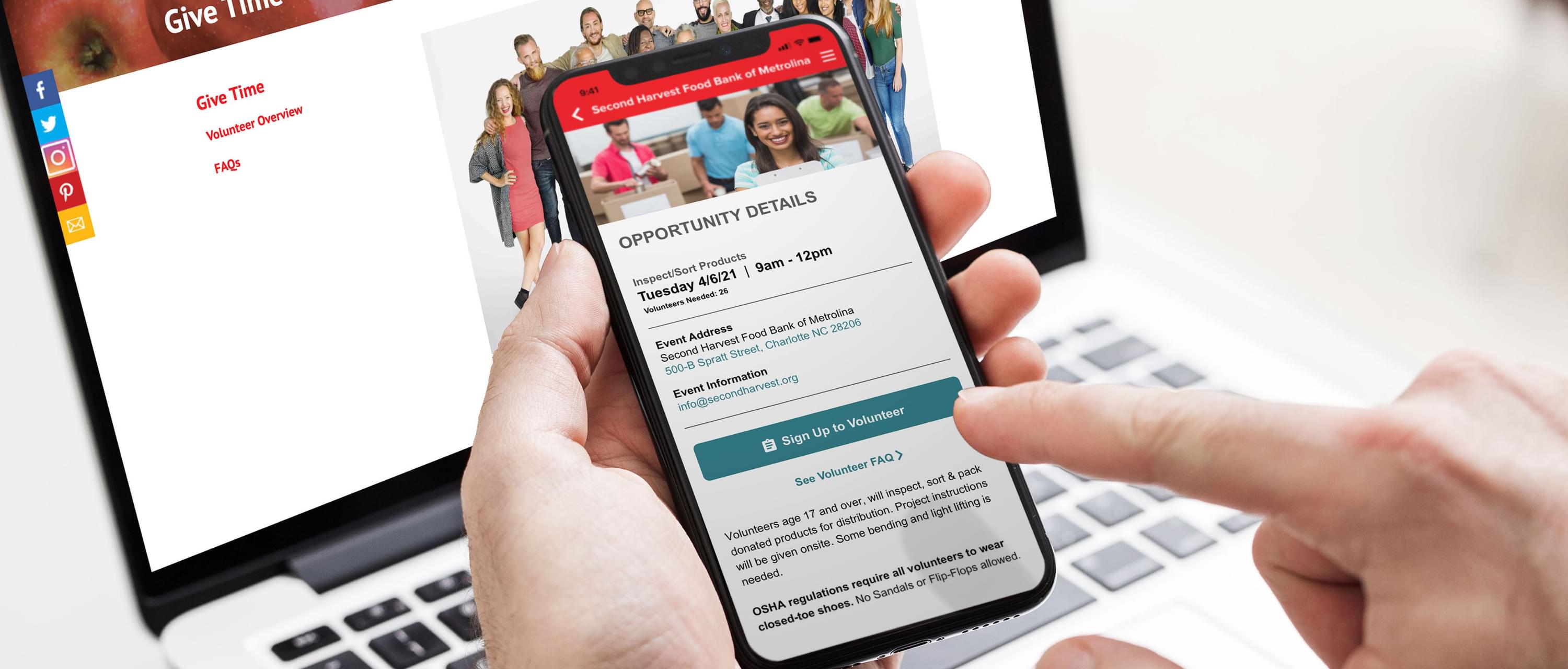 CapTech and Second Harvest Food Bank of Metrolina are partners in the mission to end hunger and food insecurity. Second Harvest annually distributes over 70 million pounds of food and household items across 24 counties in North and South Carolina. CapTech partners with Second Harvest and a network of other food banks nationally to provide volunteers, financial support, and technology to further their missions.
Second Harvest relies on over 98,000 volunteers to prepare food and non-food products for distribution. Signing up for shifts was a manual process that created significant administrative work on the back end. CapTech leveraged the firm's four practice areas – Management Consulting, Technology, Data & Analytics, and Customer Experience – to develop and design a user-friendly mobile app that facilitates online registration. By having an app, Second Harvest aims to reduce the staff time required to manage volunteer shifts, allocate volunteer capacity more effectively, and increase volunteer hours. The app to expected to go live to volunteers in Summer 2021.
The following conversation with Second Harvest Volunteer Coordinator Nancy Hagerman and CapTech Managing Director Les Morelock highlights the importance of Second Harvest's work and how the mobile app CapTech is building and designing as a pro bono project will enhance its mission. What follows is a lightly edited Q and A.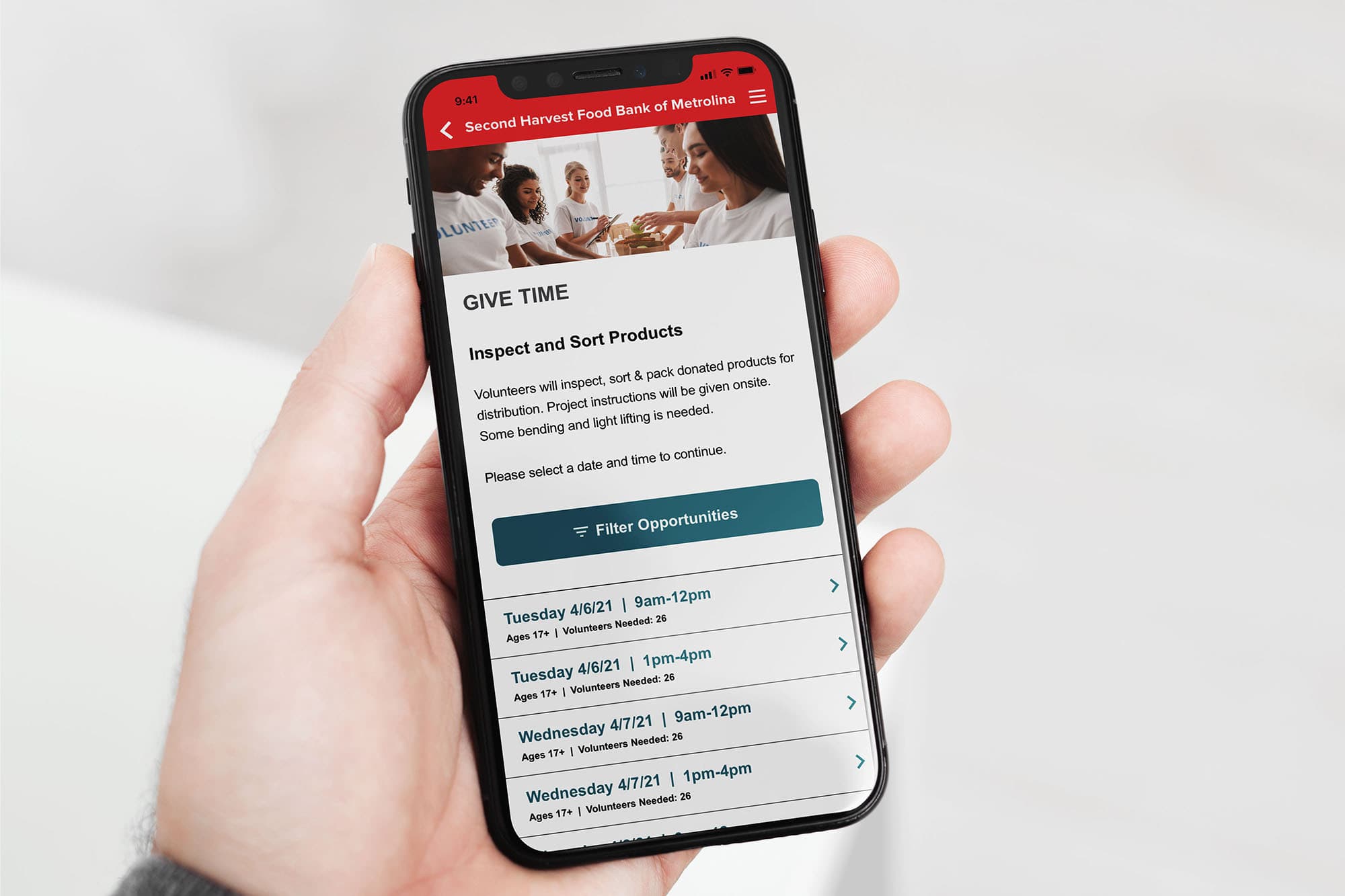 Tell us about your work at Second Harvest.
Nancy: I'm the volunteer coordinator at Second Harvest Food Bank of Metrolina. Second Harvest has a large number of volunteers that come and help us every single day. Last fiscal year, we had more than 300,000 volunteer hours, equating to almost $7 million in labor savings to the Food Bank. Our staff here is small, just over 50 people, so we rely heavily on our volunteers. My job is to get them here every single day and keep them returning.

Please tell us about the increase in need you've seen this year with the pandemic and economic crisis.
Nancy: The need is huge right now. All of our partner agencies that send the food directly to people in need are showing increases. Some are normally serving 100 families a month and now they are serving 200 or 300.

What type of work do volunteers typically conduct when visiting Second Harvest?
Nancy: Our main task for volunteers is to help inspect, sort, and box food donations and grocery items. We get truckloads every day. When someone asks me what exactly they will be doing, it's always a surprise. This week we got potatoes in, so we had volunteers bagging potatoes. All the items have to get inspected and sorted. We also do food backpacks for kids and food boxes for seniors.
Once the volunteers help us prepare for distribution, the goods go out to over 800 different partner agencies throughout 14 counties in North Carolina and 10 counties in South Carolina. We cover a pretty big area and right now the need is great. With volunteers coming in and helping us with this, and staying on top of it, we're able to get all those items out to our hungry neighbors.
How does the volunteer registration and tracking process work today?
Nancy: Volunteers typically register through an online calendar system. It's worked well, but we've grown, so we need other ways to get people involved and we need to be able to track it. We print out sign-in sheets. At the end of the month, I sit down and add up all those sheets – it's very time-consuming.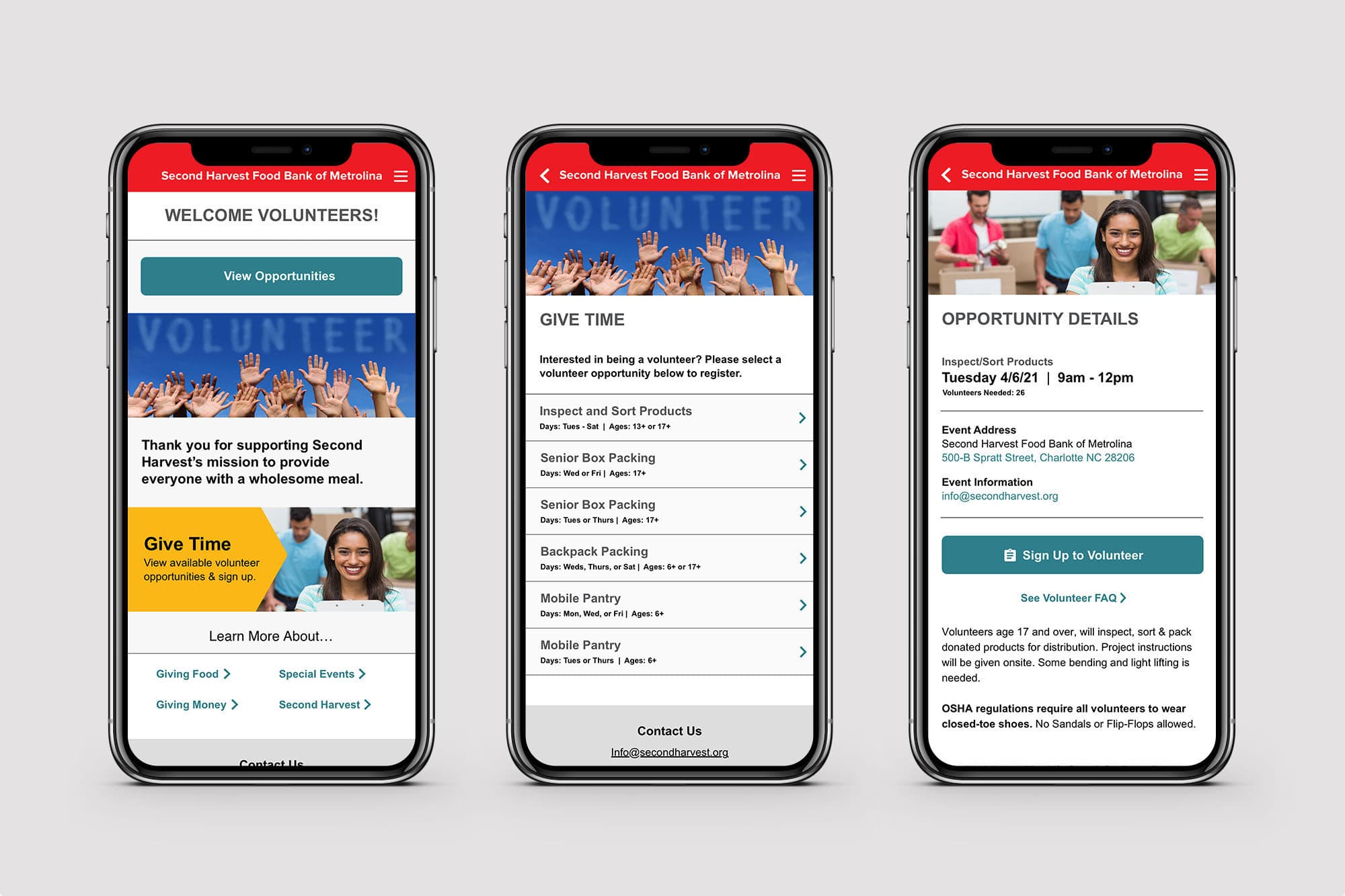 Why did CapTech get involved with a pro-bono project designing and building a mobile app for Second Harvest?

Les: We've enjoyed working with Second Harvest over the years because we believe in its mission. It is our sincere hope that this app will enable the organization to serve even more people in the Carolinas.

How will the new mobile app that CapTech built impact your process?
Nancy: The app is going to be a great tool for anyone to put on their phone or iPad and easily get to the Second Harvest registration site. They'll also be able to sign in on an iPad when they volunteer, which will then track their hours. At the end of the month, I'll have a report totaling all of the volunteer hours and we won't have to use paper sign-in sheets anymore.

Les: The reality is that mobile apps are ubiquitous--everyone knows how to use them, and everyone has them on their phone. We hope that the mobile app is going to help by exposing Second Harvest to new people.
A theme of CapTech's involvement in the community is the idea that technology can be a part of the story on how great work in communities gets done. To what extent do you believe that to be true for Second Harvest?
Nancy: Every time someone comes and helps us, like CapTech or other companies, it saves money. When we save money, we can provide more food to support our mission. Any kind of technology that will help us improve operations or people that are willing to volunteer is going to help us feed more people in the long run.

What were some of the considerations that we had as CapTech when we were thinking about the needs of Second Harvest and how we were going to approach this?
Les: CapTech has a strong commitment to support food banks across the country, located near the offices where we work. That national commitment made the partnership with Second Harvest very easy. Also, our consultants really enjoy volunteering with Second Harvest, so they were eager to get involved with the project.
Volunteering is an activity where everybody wins. Once we were able to evaluate the national commitment and the cultural benefits to our office through volunteering, it wasn't a big leap to move towards a mobile app supporting volunteer registration. We experienced the process of registering as volunteers firsthand and it was highly manual. We thought this the app would make an impact. As a company, we design and build mobile apps, so it was a natural fit.
What worked well about your partnership? Do you have ideas or lessons learned that you would apply to future collaborations?
Nancy: I've been on the project since CapTech first approached Second Harvest and the communication has always been great. CapTech and our Second Harvest IT Team really heard what I was saying and what I conveyed from the volunteers. Everyone listened and made the changes as best they could for me. It was a fantastic project between all of us.

Les: The experience from CapTech's side was fantastic. There was an omnipresent sense that we were doing something good and that is incredibly valuable to our consultants. It gave us the opportunity to leverage our Management Consultant practice, our Customer Experience practice, and of course, our Systems Integration and Data Analytics practices building the backend of the mobile app. It has been an effort that's allowed us to flex all of our muscles and it's been well worth it.